All Hail Hayley!
There isn't much our Hayley can't do. From massaging Nick Gimshaw live on radio one to training with celebs in gymnastics for the upcoming BBC tumble, Hayley is a master of all things sport!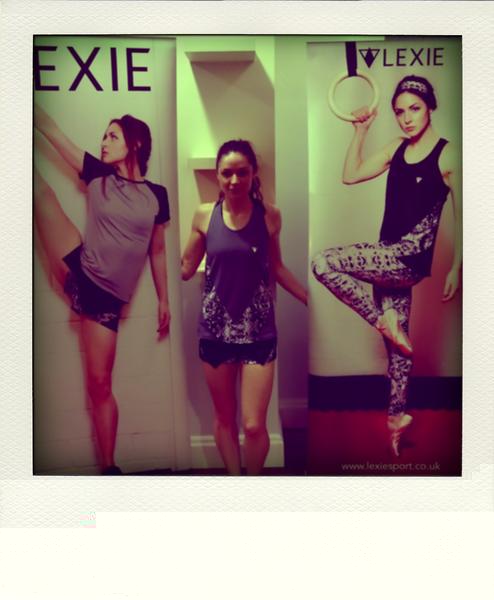 Our resident flexi, we spent some time asking Hayley the really important stuff , discovering her weird obsession with her phone and a strong love of Will Smith...
Tell me how you got into your line of work?
"It's quite a long story but was always into playing sport and I originally wanted to be a PE teacher or Physio. Then I started dancing at school and after doing a solo in a show my teachers said I should apply for Dance College. So I studied dance for three years which I loved but when I finished I felt I needed something else to back me financially. I always had sports massages and I was always interested in that area so I decided to train so I was fully qualified. Recently I started teaching pilates too. Sports modelling began when I was at college and developed from there really. I got signed by a sports agency and since then I have been able to work with many companies."

What is the strangest sport you have ever tried?
"Strangest sport.. I know I have done tag rugby but that's not very weird. I have also been involved with aerial acrobatics which was good fun."
If you were an animal, what would you be?
"Everyone says that I would be a flamingo because I am always standing on one leg and look quite bird like! I would want to be a killer whale though as I just love them!"
If you could meet anyone dead or alive, who would it be?
"Will smith probably as he has great views in life and an amazing story of how he got to where he is"
What's your annoying habit?
"I go on my phone way too much! I'll check it unnecessarily and just waste so much time on it. I'll refresh my facebook feed and then 5 minutes later, I'll do it again. I should do something more productive like read a book or something."
If you were in the Olympics, what sport would you want to compete in?
"I would want to do 100m sprint as it's the biggest and most hyped up event."
Pick two celebrities to be your parents... Go!
"Will Smith and Meryl Streep, I'm a big fan of both"


What's something you're bad at but wished you were good at?
"Singing. I really really can't sing! My friends keep telling me I should go into acting which is random as I don't think I can act and singing is definitely not a strong point."
When you were younger, what did you want to be when you grew up?
"Vet was always my first dream and then I wanted to be a PE teacher when I found my love for sport."
What does your future hold?
"I want to do lots more dancing and modelling jobs. Keep my client base for my sports massages but it would be great to work from home. I would love to buy a nice home and convert it to having a treatment room and studio where I can teach classes."


To find out more on Hayley and get her top health tips, check her website: healthwithhayley.com